Custom paper bags are the most popular format of eco friendly packaging in 2023. They have several applications and are used by almost all kinds of businesses. With the growing popularity of eco friendly packaging and incremental demand for alternatives to single-use plastic, paper bags became a great sustainable packaging alternative. This article discusses why you should stop using plastic packaging and switch to paper bags. In this article, find all the important aspects of ordering custom paper bags for your brand including options like Printing, Materials, Handles, Sustainability and FAQs to help resolve common inquiries.
What Are Custom Paper Bags?
Paper bags, with or without handles, can be customized with various paper types and printing techniques to complement a brand's identity.
Custom paper bags are now an essential part of the branding of most consumer-facing businesses. Consumers commonly use them as carrying or shopping bags, thanks to their durability and strength.
Why Are Paper Bags Better for the Environment?
Custom paper bags are becoming popular within the market. That is because they carry as much weight as plastic bags, maybe even more. Paper bags are also recyclable, since they are made of one or several layers of high-quality kraft paper.
Personalized paper bags are now made to carry a wide range of products, such as groceries, liquor bottles, clothing, toiletries, electronics, books, and many other goods. And because they're reusable, they can be repurposed by your customers to store some of their belongings or carry their lunch to work.
Paper bags are also biodegradable. They only need to be buried in soil for about a month to decompose, as opposed to their plastic counterparts which stick around for decades.
Now we know why paper bags are better for our planet, but why customize them?
4 Reasons Why Custom Paper Bags Are Better Than Stock Paper Bags
Brand Consistency
Branding is about telling a story. Your brand's story is never complete without incorporating every detail, including your packaging, and creating brand consistency. Customizing your shopping paper bags strengthens your brand consistency and better delivers your brand's message.
Brand Awareness
Aside from your product, this item will show your brand's name and personality. A paper bag is practically a mini billboard that travels beyond your brand's shop or business location. A custom paper bag with your logo and unique branding is a great promotional medium to expose your brand, promote brand awareness, and generate leads. This is why custom bags are always found in any trade show or similar event.
Budget-Friendly
Custom paper bags are a great cost-effective alternative to plastic bags for any business who's looking to go green. The best part is that they come in a wide variety of styles. You get to choose their sizes, colors, quality of materials, handles, design, weight of the paper, and carrying capacity.
Best Quality for Your Business:
When you place a custom order, you can choose all the product details. Of course, having an attractive design, logo, or brand stamp on the bag is important—but so is the quality of your packaging. When customizing your paper bag, you get to choose the best quality that matches your business's needs. That way, you'll get a final product you're proud of.
Types and Categories of Custom Paper Bags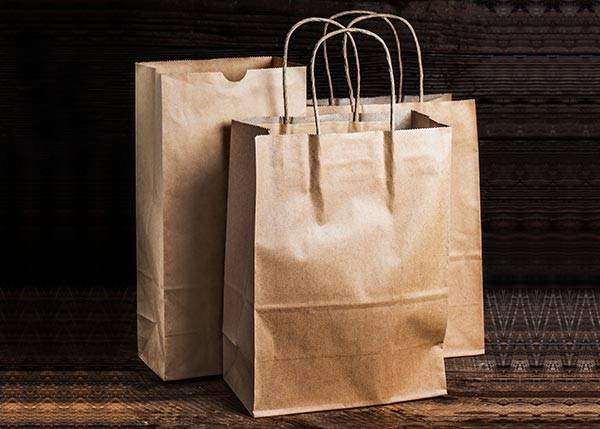 Paper Bag with Handles
This type is the most popular one among paper bags—and for good reason. It is compatible with almost every business that needs packaging. It also comes in many sizes and colors and, of course, is 100% customizable to fit the branding of your business.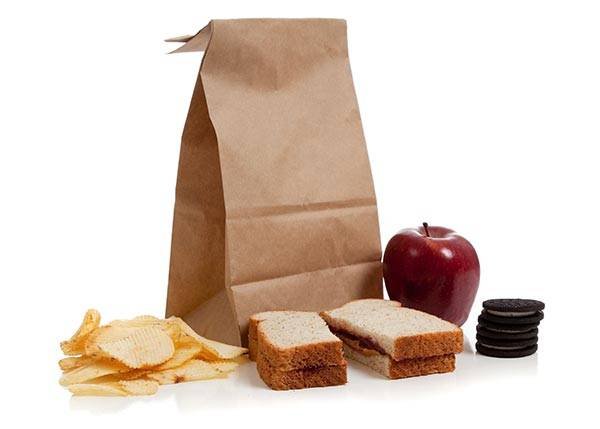 Paper Lunch Bags
You probably see these almost every day at lunchtime. Whether for school or for work, paper lunch bags have been a staple in every home for years. Their unique design offers enough support to make them stand open and ready for you to quickly pack your lunch on busy mornings. For that reason, many food businesses started customizing these paper lunch bags for their take-outs.
Paper Grocery Bags
This type is a staple at every local market. These paper bags are available in all sizes to fit all your goods in only one or two paper bags. An average bag can hold anywhere from 2 to 75 pounds of items—that's how strong these paper bags are.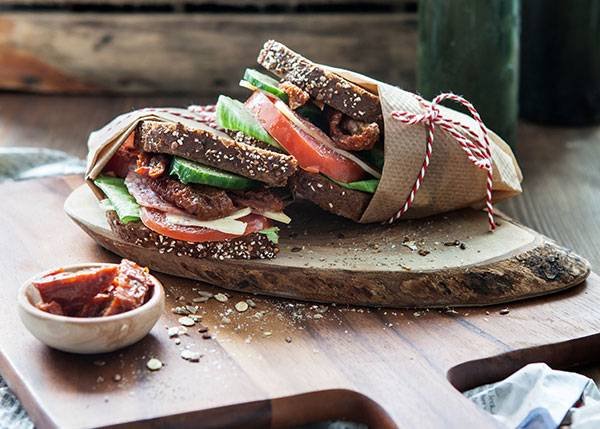 Paper Sandwich Bags
This is the bag you get your to-go sandwiches in at any food chain. They mainly come in shapes that match different types of bread, and they're available in two primary colors: natural kraft-brown and white—both of which are easy to customize.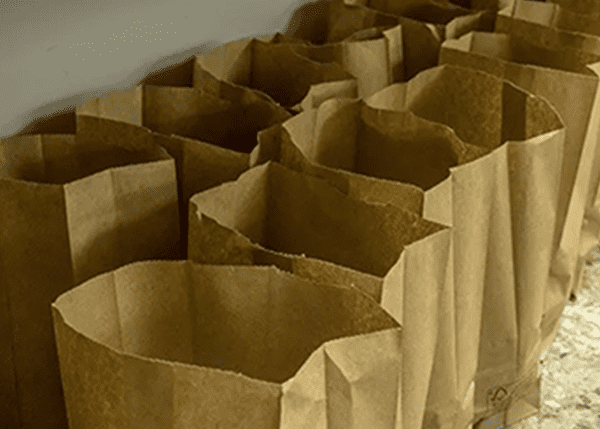 Paper SOS Bags
SOS stands for Self Opening Satchel or Self Opening Sack. These bags don't usually come with a handle, and most of them have a "serrated" top for easy opening. This type is quite versatile. Depending on their size, they could be used for food deliveries, bakeries, and even flour packing bags.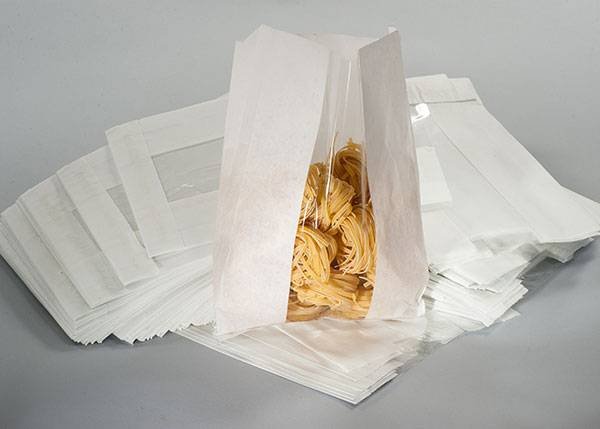 Paper Cookie Bags
These small bags are just the right-sized wrapping for biscuits, scones, and cookies. Custom paper cookie bags are a great addition to any brand, whether for a small at-home bakery startup or a multi-branch business.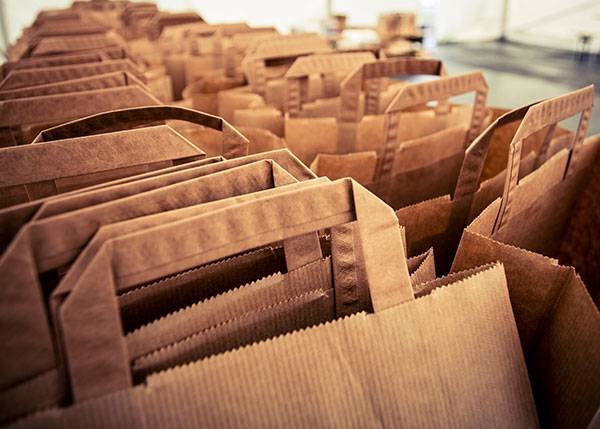 Flat Handle Bags
These bags have a squared or a rectangular flat handle which helps the paper bag withstand heavier weights. These handles make the perfect paper bags for clothing, electronics, office & school supplies, and other heavier goods.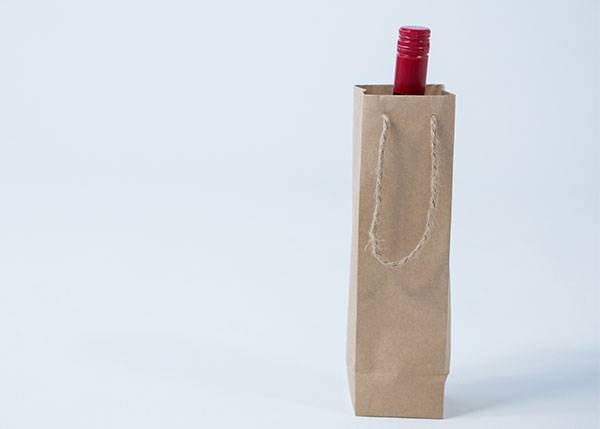 Gusseted Wine Bags
These paper bags are made with a gusset to give your purse extra room without looking bulky. This durable bag is for wine bottles and any other similar product. Ordering these as personalized paper bags is a great promotional treat, especially during special occasions and holidays.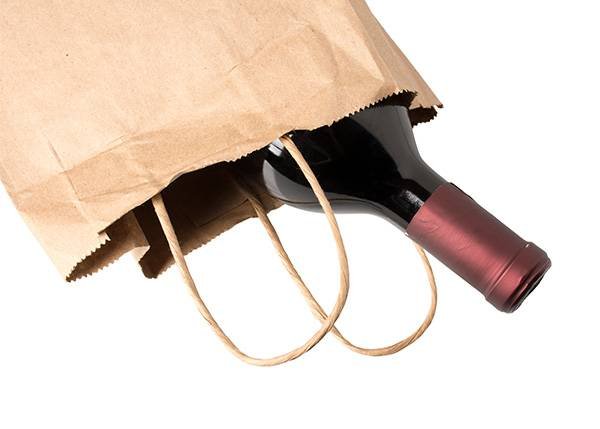 Twisted Handle Wine Bags
The perfect-sized paper bag to hold your bubbly. These come with a handle to make them easy for users to carry.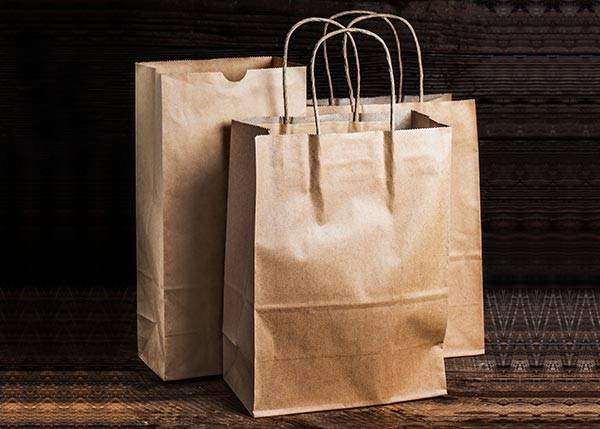 Bread Bags
Brown kraft paper bread bags are a great breathable option to keep bakeries fresh and avoid unwanted moisture from the condensed heat of hot, freshly baked goods.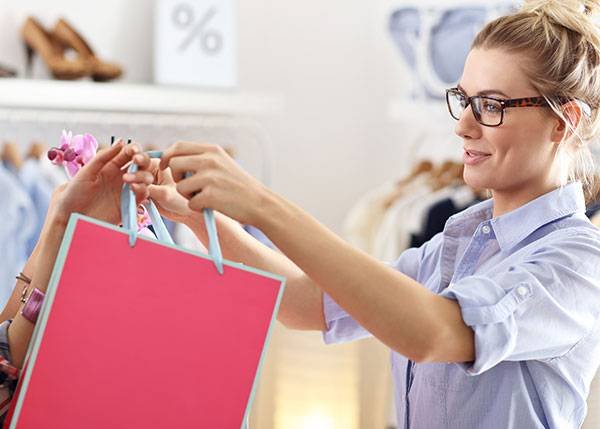 Metallic Euro Totes
Euro totes are a popular type of personalized paper bag. They look appealing and they don't tear or crease easily, which makes them the perfect type of paper bags for presenting a gift or carrying your belongings.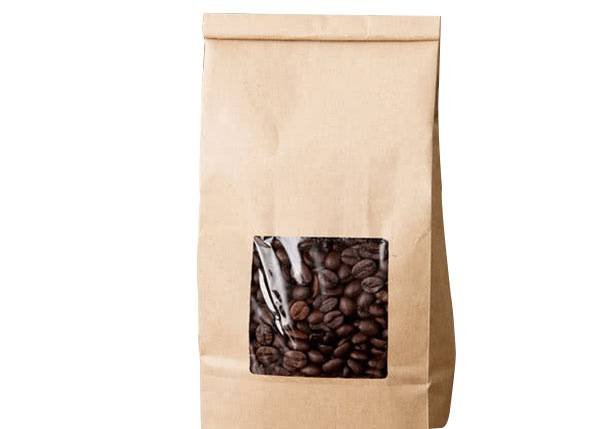 Tin Tie Cookie Bags
Forget about moisture seeping through poorly closed kraft paper bags. Unlike paper bread bags, these tin tie bags could be closed tightly to prevent baked goods from going stale and help them stay fresh for longer.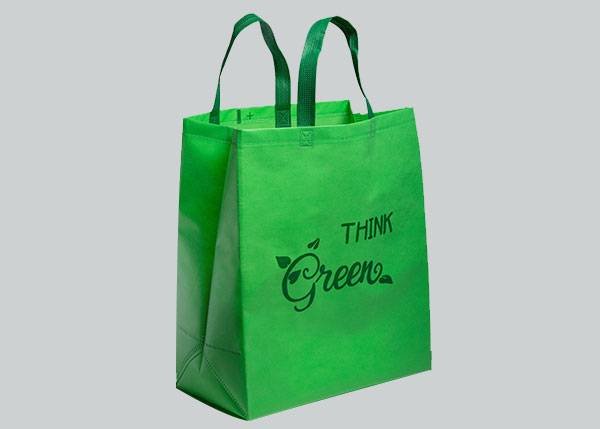 Shopping Bags
Many retail stores have switched to custom paper bags. These paper bags come in various dimensions, materials, & handles to cater to all types of goods and improve customers' shopping experience.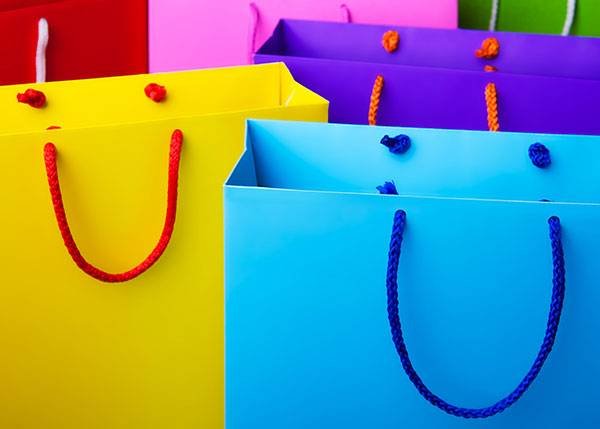 Color-Twisted Handle
Adding a splash of color is always a fun touch to any bag design. The twisted handles add a decorative touch as well as extra support for heavier packages.
What to Look for When Making Custom Printed Paper Bags
Types of Paper
The first thing you need to consider when making an order of personalized paper bags is the type of paper which can produce a variety of results in the final custom printed paper. The material options are:
Brown kraft 100% recycled paper.
Kraft recycle mix (ranges from 40% to 80% recycled paper).
Virgin (100% newly sourced) kraft paper.
Colored or bleached white paper.
Which Type of Paper Makes the Best Paper Bags?
Both brown and white kraft paper bags are the best types of custom paper bags. They're made of high-quality natural resources, are recyclable, and highly durable, which is why many businesses use them.
The only downside of brown kraft paper is that a logo with bright colors might not be as vivid as the intended design. If that's the case, white paper would be the perfect option for your logo.
Size Range
Automatic machines can manufacture custom paper bags with a gusset or width size ranging from 3.5" to 17" and lengths from 4" up to 34".
A manual or hand-made order can be customized in almost any size and color to show your brand's message. However, this may increase the price of your order, depending on how your end product needs to be.
Types of Handles
Handles may seem like an accessory to your bag, but these little details show how much you care. Your customers will appreciate it when they can hold your bag comfortably. Handles are available in many forms, including:
Flat Handle
Die Cut Handle
Twisted Rope Handle
Ribbon Handle
No Handle
Fabric Handle
Handles' Length
You can choose the right handle length that suits your bag's aesthetics and business requirements, ranging from 4" to 12" end-to-end.
Automatic or machine-printed options include:
Screen Printing
Flex Printing and Digital Printing
Ink Stamp
Foil Printing
What Is the Difference Between Screen Printing, Flex Printing, and Digital Printing?
In order for you to print a logo or artwork on paper using screen printing, you'll first need to create a "plate" of the requested design. Then, you'll use that plate to print the design on paper. The problem with screen printing is that the "plate" or "die" is limited to only 1 to 3 colors, whereas flex printing allows for more color options without repeating the printing process. Digital printing, on the other hand, is the most advanced format, enabling full-color printing, but it comes with high prices
All three printers limit the target medium's size, whether paper, cardboard, or vinyl, by the width of their available "printer head", which is an essential component of the printing machinery.
Frequently Asked Questions on Custom Paper Bags
What Are the Most Common Sizes People Order?
Here's a quick list of the popular paper bag dimensions in the industry:
MARKETS: (12x7x17 Kraft SOS Paper Bag)
BAKERIES: (3.5x2x6.75 Kraft SOS Paper Bag)
RESTAURANTS: (5x3x10.5 Kraft SOS Lunch Paper Bag)
RETAIL STORES: (8×4.75×10 Kraft Medium Shopping Bag)
How to measure paper bags?
The measurements are written in this format: Width x Gusset x Length
Width: Horizontal measurement of the face of the bag.
Gusset: Measurement of the opened gusset from edge to edge.
Length: Vertical measurement of the face of the bag.