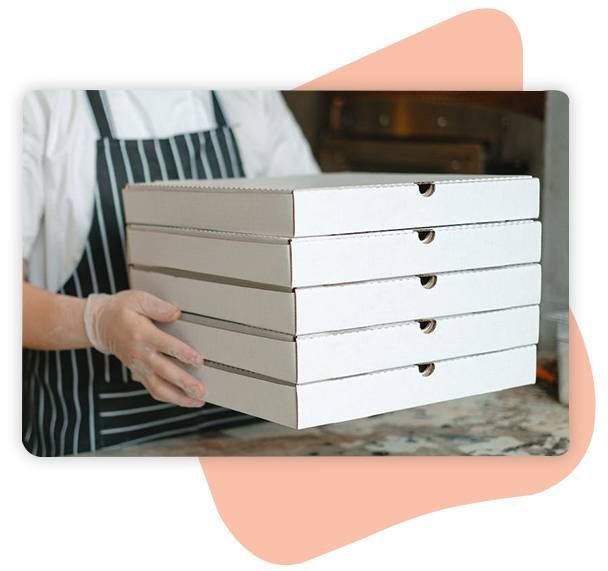 About Pizza Boxes
The classic pizza box is made especially for packing pizzas, pies, and any other flat food. Our pizza boxes are crafted to pack your pizza and safely deliver it to its destination without harming the environment with waste in the process.
Types of Pizza Boxes
Corrugated Pizza Boxes
Corrugated pizza boxes are made of corrugated cardboard material, which is the highest quality material for pizza boxes. Corrugated boxes are strong enough to hold the pizza, without getting ruined from its heat and grease.
Clay-coated Paperboard Pizza boxes
Pizza boxes made of clay-coated eco-friendly kraft paperboard material are a cheaper packaging option and they're much easier to produce. These pizza boxes go well with pizzas that aren't too greasy and don't need a highly-durable material for strong support.
Pizza Box Size options
Pizza boxes come in multiple stock sizes and caters to traditional pizza packaging as well as flat bread of rectangle-shaped pizza packaging. Sizes range from a small 8" to the family-sized 24" box.

8″

12″

14″

16″

18″

20″

24″
Pizza Slice Boxes
Pizza slice boxes are suitable for pizzerias and restaurants that sell pizza by the slice. These boxes are perfect for serving pizza slices to-go because they can efficiently hold a pizza slice cut from an 18″ pie and they're easier to hold than a paper plate. Pizza slice boxes also ensure the pizza slice will be warm and ready whether customers eat on the move or wait until they reach their destination. Like a regular pizza box, the back side of the box has small openings to reduce condensation accumulation. Since these boxes allow customers to purchase pizza by the slice, they can significantly increase sales.
Color Options
Pizza boxes come in a variety of color, including natural kraft color, white, black, and fully colored boxes.



Since kraft boxes require the least color treatment, they're the cheapest option for corrugated cardboard boxes. White boxes, however, require bleaching to reach the desired shade of white, which raises the price of the boxes. The same applies to printing colored cardboard pizza boxes.
Get a Quote
Get A Free, No Obligation Quote for Plain or Custom Pizza Boxes
Why Order Custom vs Plain Pizza Boxes?
Customizing pizza boxes to match the branding of you business is an essential part of any packaging. Showcasing your brand's name, logo and message on your packaging comes with many benefits for your business, including…



Custom Pizza Boxes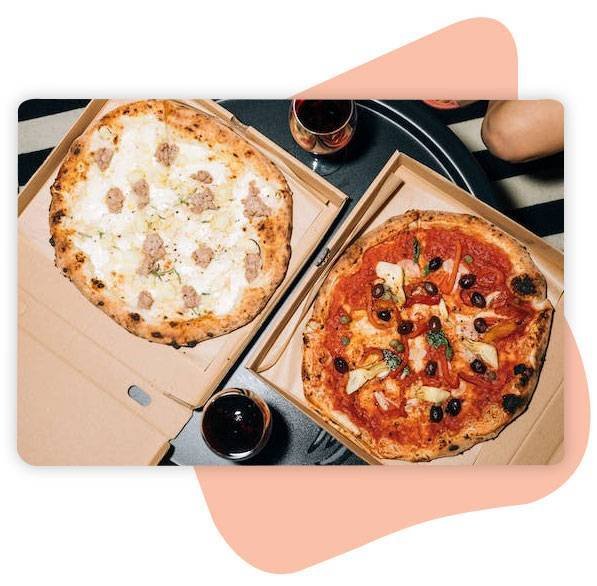 Why Canada Brown?
Canada Brown is a leader in providing sustainable eco-friendly packaging supplies for your business. We offer the best quality of environmentally friendly packaging, both stock and custom.
Our products can be completely customized to match your branding and deliver your brand's message. This includes custom sizes, materials, and colors.
You may also be interested in