Why Custom Paper Cups?
Our fast paced environment demands and stretches our attention thin. Custom printed cups and coffee sleeves allow for better brand recall of coffee shops.
Custom paper cups printed with your logo help with brand recognition of a business. For small businesses, every customer interaction is an opportunity to connect and activate a number of senses that leave a lasting memory.
Smell The smell of fresh coffee beans
Sight Custom printed paper cups, posters, coasters and even the color of your flooring.
Hearing Background music like jazz, piano, etc
Taste The taste of your coffee
Touch Comfortable chairs, recliners or sofas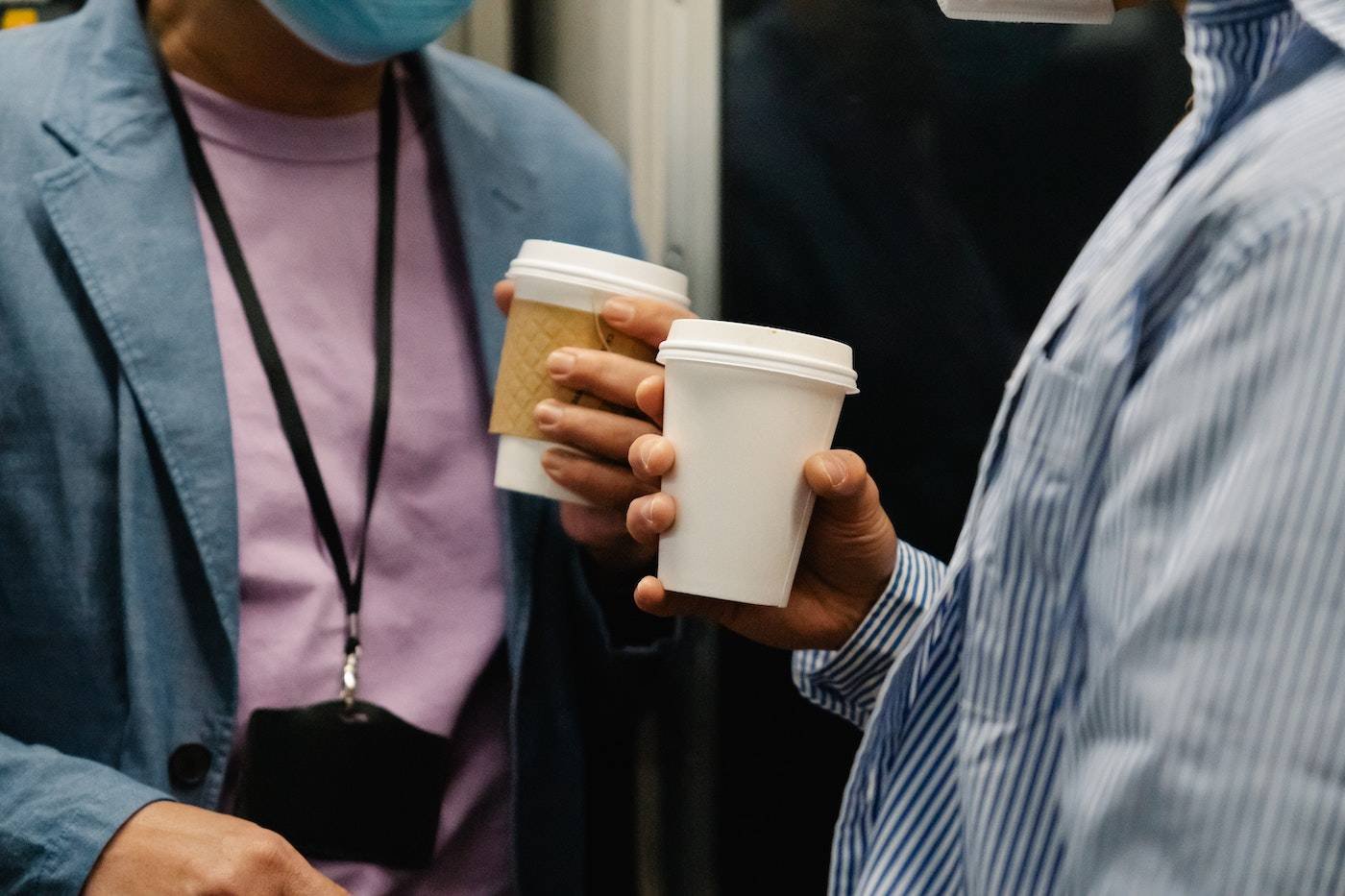 Get Disposable Coffee Cups Custom Printed to promote your brand
Custom printed coffee cups do more than serving cold or hot drinks. They elevate business visibility and amplify recognition. Unlike generic cups, our custom designs put your brand at the forefront.

Quality Printing
We uphold stringent quality standards. Using sustainably sourced paper, our printing process ensures vibrant, detailed, and clear designs.

Bespoke Logo Branding
Tailor your cups to echo your brand's essence. Whether you opt for minimalist elegance or vibrant creativity, we can accommodate.

Timely Deliveries
Our robust supply chain guarantees timely delivery. With us, delays are a concern of the past.

Design Assistance
Begin with our complimentary dielines. This tool simplifies the design process, allowing for easy visualization before finalizing larger orders.
Value Pricing
We offer competitive rates without compromising on quality, ensuring premium customized cups are within your budget's reach.
Send us an existing design or we can help you create a new one.
Get a Die line/Mockup/Proof for approval
Get Custom Printed Samples (Optional Proof) or approve a similar cup for material review
Production Run of the Printed Cups
Delivery, Logistics and Warehousing (optional)
Sizes, Features & Variations
We provide a wide selection of custom paper cups and cold drink cups for any business looking to get started with their branding on printed cups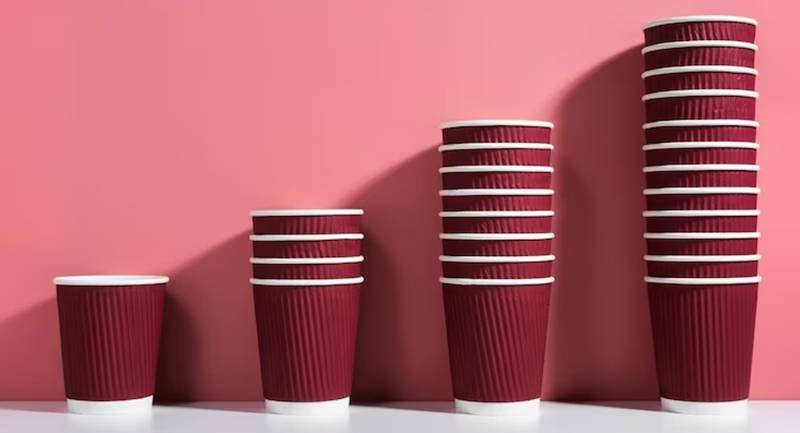 Single Wall Cups (Hot)
Single Wall of Paper with a PE (Recyclable) or PLA (Compostable) invisible lining inside. Available in paper cup sizes ranging from 4oz to 24oz.

Double Wall Cups (Hot)
Double Walls of Paper with a PE (Recyclable) or PLA (Compostable) invisible lining inside. Available in paper cup sizes ranging from 8 oz to 20 oz.

Ripple Wall Cups (Hot)
Single Wall of Paper with a Rippled/Ribbed Styled outside. Functions just like double wall cups but cheaper. Available in paper cup sizes ranging from 8 oz to 20 oz.

Clear Cups (Cold)
Transparent material of PET (Recyclable) Plastic or PLA (Compostable) Plant Based Plastic. Commonly used for soda, beer, etc. Available in cup sizes ranging from 7 oz to 24 oz.

Coffee Sleeves
Corrugated or Plain Cardboard Sleeves. Choose from stock print or custom printed coffee sleeve style options. Available for cup sizes ranging from 7 oz to 24 oz cups.

Lids
Choose from a wide selection of lids to match any hot or cool beverage. Choose from lids for paper cups (Dome or Flat) or for cool drinks (Flat with straw hole or strawless/sippy lids)
Our Commitment

Eco-Friendly Cup Options
Sustainability is integral in our company. Choose cup materials that resonate with your brand's commitment to the environment.

Variety in Dimensions
A diverse range of sizes ensures versatility and relevance for every occasion.

Free Storage
We offer complimentary warehousing in Toronto for bulk orders without the stress of space management.

Client Satisfaction
Our goal is customer delight. We take pride in the positive feedback from numerous satisfied coffee shop owners.
Efficient Supply Chain

Production Forecasting
We ensure year-round production, we handle the supply-chain to ensure our customers get their restock fill at the right time.

Reliable Quality
We offer pre-production samples to assure our customers of the cup quality to expect and for them to try out how the cup handles their beverage of choice.
Cup Artwork Ideas
Explore our diverse range of curated cup artwork designs to fuel your creativity or start with your own custom paper cup design or logo.
Get a Quote for Custom Cups
We can help create a unique design or send us your existing design for a free no-obligation quote.
Frequently Asked Questions
Do you ship to the USA?
Yes, we ship to customers in USA, Canada, Caribbean Islands, Mexico and UK.
What is your minimum order quantity for custom printed paper cups?
Our minimum order quantity for custom printed paper cups is 30,000 per design per size. Our minimum order quantity for custom printed cold cups
I would like resell these cups to my customers. Do you offer reseller or wholesale pricing?
Yes we do. Please use the contact form to get in touch.
We are a small business and can order your minimum order quantity but we do not have place to store.
We offer 3 month free warehousing at our Toronto warehouse, with all custom print orders (cups, bags, containers, etc) with 1 free pickup every month.
My branding agency does not have my artwork accessible anymore. How can you help?
It's common for a brand to lose their brand assets. We can help you create the original artwork again for a small fee. The artwork may need to changed to adapt to paper cups or food container's shape.
Why order Custom Cups with Canada Brown?

Supply Chain Reliability
Your business can rely on Canada Brown for consistent quality and performance.
Free Warehousing
Maximize savings with bulk orders without storage hassles. All custom packaging orders get 3 months of free warehousing at our Toronto location.

Pricing
We offer competitive prices on the market with quality assurances and have a 100% client retention till date.

Supply Forecasting
Get a detailed schedule of your deliveries throughout the year to ensure you have enough supply all year round.

Custom Design Services
We can create the design for your custom shopping bags.

Global Supply Chain
Get the best material for your shopping bags anywhere in the world.

Materials
Our bags are optionally made of sustainably sourced paper without compromising on quality and durability.

Size Flexibility
Our sizes are 100% customizable, so you won't need multiple vendors to supply you with multiple sizes of shopping bags.

Free Dielines
You don't need to start from scratch! Add your design to our dielines and receive your samples.
You may also be interested in