The Federal Government of Canada has created a plan to achieve zero plastic waste by 2030. They've created this plan to reduce greenhouse gases and protect wildlife and water surfaces. One of the main steps of this plan was issuing the single-use plastic ban. After delaying this ban, the Government of Canada has finally announced the final regulations of the single use plastic ban Canada wide.
This is great news because, according to Environment and Climate Change Canada, Canadians discard three million tons of plastic waste each year, and only nine percent of it gets recycled. A recent study conducted by Deloitte and Cheminfo Services Inc. shows that the majority of single-use plastics discarded as plastic waste in 2016 were actually packaging materials. This included plastic bags, bottles, and products used in the food and beverage sector.
In this article, we'll explain what you need to know about the single-use plastic ban in Canada.
Reasons the Federal Govt implemented the Single Use Plastic Ban Canada wide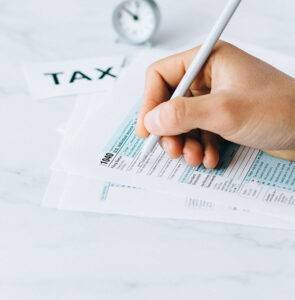 Scientific evidence confirms that plastic pollution is pervasive in the environment. Macroplastic pollution is harmful to the environment, and single-use plastics produced, such as checkout bags, and food and beverage service items, make up the bulk of macroplastic waste found in Canada. Organisms can ingest or become entangled in macroplastics, which can result in direct harm and, in many cases, loss of life.
The Single-use Plastics Prohibition Regulations were made under the authority of the Canadian Environmental Protection Act, 1999— also known as CEPA—following the addition of "plastic manufactured items" to Schedule 1 of the Act in May 2021. The decision to add "plastic manufactured items" to the Canadian Environmental Protection Act was grounded in the findings of the Science Assessment of Plastic Pollution.
The other six categories of single-use plastic items being prohibited, which are checkout bags, cutlery, foodservice ware made from hard-to-recycle plastics, ring carriers, stir sticks, and straws, were specially selected because they are commonly found as wastes, are harmful to wildlife and wildlife habitat, are difficult to recycle, and have readily available alternatives.
List of Items now banned in Canada
Single-use plastic checkout bags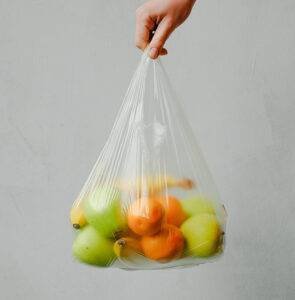 Plastic checkout bags and garbage bags that would break or tear easily, even the ones made with materials containing fabric, will be prohibited according to the technical guidelines of the new policy.
These are the plastic bags that are typically given to a customer at the retail's point of sale. They are designed to carry purchased goods from a business and deliver takeout food or drinks from a restaurant.
However, there are some exceptions for this category. Generally, plastic bags that are more than 120 microns thick are not included under the new ban. This includes plastic bags that are used to make garbage bags hold organic waste, some garbage bags, and recycled items. It also includes plastic bags used to package fruit and vegetables, loose food items such as grains, nuts, meat, clothing, flowers or potted plants, candy, and baked goods.
As alternatives to the banned plastic checkout bags, the government requires that the fabric checkout bags used to replace single-use plastic checkout bags must be durable. This means that they will not break or tear if used to carry 10 kilograms over a distance of 53 meters, 100 times, and could be washed in the laundry machine.
Single-use plastic foodservice ware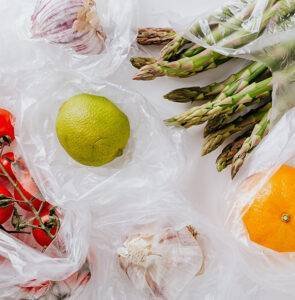 These food containers and cups that are made entirely or in part from plastics are designed to serve or transport food or beverage that is ready to be consumed. This includes clamshell containers, lidded containers, cups, boxes, bowls, and plates.
All of these packaging options contain, expanded polystyrene foam, extruded polystyrene foam, polyvinyl chloride, and carbon black produced by the partial or incomplete combustion of hydrocarbons or an oxo-degradable plastic.
The exceptions of the recently announced regulation from this category include:
Plastic trays used to store and sell items, such as raw meat and chicken.
Fish and vegetables wrapped in a protective black plastic film.
Pre-cooked food packaged in flexible plastic packaging.
Containers used for the long-term storage of food products such as peanut butter, apple sauce, olives, pickles, and nuts.
Cups or containers used by hospitals and care institutions for providing medication to patients without any risks of contamination.
Plastic-lined paper and fiber-based coffee cups that do not contain one of the prohibited plastics.
Foodservice wares made from non-prohibited recyclable plastics, non-conventional, or compostable plastics.
Cutlery
The new regulations ban single-use plastic cutlery, including knives, forks, spoons, sporks, and chopsticks. The main harmful characteristics that put these items on the banned list are that they change their physical properties after being run through a dishwasher 100 times, and that they contain polyethylene, PE for short, or polystyrene, also known as PS. Otherwise, reusable plastic cutlery which does not poses these characteristics is allowed to be used and sold.
Ring Carriers
Manufacturing and importing single-use plastic ring carriers, which are made with the purpose to surround beverage containers to carry them together, will be restricted starting from June 2023. It'll be fully banned from sales after one year of applying the new restrictions.
The reason for this is that plastic ring carriers can be stretched out of shape because they're typically made from low-density polyethylene. However, rigid plastic and beverage container holders are not prohibited because they do not have deformable rings or bands around the beverage container.
Stir sticks
All types of plastic stir sticks, which are designed to stir or mix beverages, or to prevent a beverage from spilling from the lid of its container, are included in the list of banned plastic items.
Straws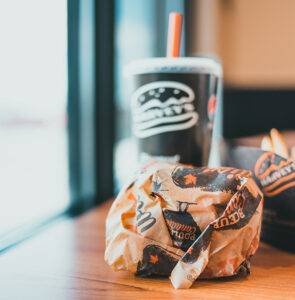 Straight plastic drinking straws that contain polyethylene or polystyrene and cannot withstand going through the dishwasher 100 times are prohibited under the newly announced regulation. The ban also prohibits selling plastic straws that are attached to or sold with juice boxes, bags, or pouche beverage containers starting from June 2024. These straws are also referred to as flexible straws, which are single-use plastic straws that are bendable and can be set at various angles.
However, for people who require flexible straws for medical or accessibility reasons, the manufacture and import of single-use flexible straws are allowed. This is because flexible straws are considered more accessible than straight straws as they can bend and maintain their position
Hospitals, medical facilities, and other care institutions are allowed to offer plastic flexible straws to their patients or residents. Moreover, Canadians are also allowed to offer single-use plastic flexible straws to others in a family or social situation.
For retailers, selling plastic flexible straws under the new ban is a bit more complicated. Retailers are required to keep plastic flexible straws out of customers' view and off the shelves, but they may sell a package of 20 or more single-use plastic flexible straws upon customers' requests. When requesting plastic flexible straws from a retailer, Canadians do not need to provide any documentation in order to purchase them, and stores are not required to ask customers if they have disabilities or accessibility needs.
Exceptions
The Regulations contain several notable exceptions, which are:
Waste and bags for containing waste: The Regulations do not apply to plastic manufactured items that are waste, nor to items that are intended to hold waste. Bags used for containing waste must not meet the definition of single-use checkout bags, which is any plastic bag with a thickness of less than 120 microns.
Products in transit: The newly announced regulations do not apply to plastic-manufactured items that are transiting through Canada. Whether a single-use plastic product is considered "in transit" is determined based on the final shipping destination of the product.
Single-use straws for accessibility needs: The Regulations permit single-use plastic straws to remain available in stores and health care facilities for people who require them for accessibility purposes.
Rules for single-use plastic flexible straws to ensure accessibility
According to the factsheet presented on the government's official website, flexible straws will still be available for those who require them for medical or accessibility reasons. The following rules are to ensure the accessibility to these flexible straws packaged for everyone.
Manufacture and import are allowed
Retail grocery stores can sell straws in packages of 20 or more on the following conditions:
1. They are not on public display
2. They are provided only if requested by the customer.
A business may sell straws in packages of 20 or more to another business
Individuals can give straws to others in a family or social setting
Care institutions can provide straws to their patients or residents
What Are the Alternatives?
Luckily, there are plenty of alternative materials available for businesses to use when creating their products. Many companies have already started making the switch to biodegradable or compostable alternatives such as paper bags or bamboo straws. Reusable containers such as mugs and water bottles are becoming more popular with consumers as well.
Will Canadian companies still be able to make these items for export?
By the end of 2025, the government of Canada will also prohibit the manufacture and import for the purposes of export of all six categories of single-use plastics, making Canada the first among peer jurisdictions to do so internationally.
What Are the Implications of Canada's Ban?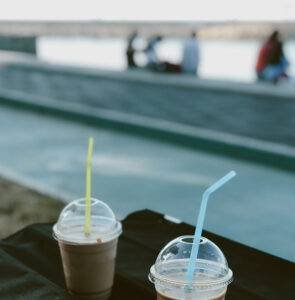 The implications of Canada's ban are far-reaching and wide-ranging, especially for businesses that rely heavily on single-use plastics. From retail stores to food services, companies now must adjust their operations to comply with the new regulations. Additionally, businesses must also consider how they will adapt their packaging and shipping solutions to account for the new regulations.
For many businesses, this means changing their supply chain processes completely, which can be costly and time-consuming. Companies must invest in new materials and technologies if they want to stay competitive in an increasingly eco-friendly market. These changes can also lead to extra costs such as employee training or rebranding efforts.
Which industries are most affected and how can they carry out business as usual?
Restaurants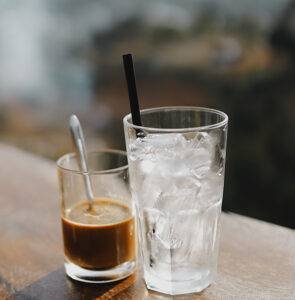 Restaurants are one of those industries that are expected to be impacted the most by the new regulations banning single-use plastics. Ever since the pandemic took place in 2020, many restaurants, and other businesses in the hospitality industry, have shifted to serving takeout food or delivery orders only. Moreover, ghost kitchens and cloud kitchens business models have popped up around the country. These types of kitchens offer delivery service only, which means that single-use plastic containers and cutlery are essential for their business.
Ghost Kitchen Market is Booming Worldwide | Uber Eats, Grubhub, (openpr.com)
An effective solution for all restaurants and other businesses in the hospitality industry is to switch from single-use plastic containers and utensils to eco-friendly ones. Restaurants can send out their takeout or delivery orders in recyclable or compostable containers, along with eco-friendly cutlery. To complete the sustainability cycle, Restaurants will need to educate their customers on how to discard their used packaging correctly. This could be applied by printing instructions on the packaging itself, adding the information on their website—or any other channel they use to receive orders from their customers—and even sharing these instructions on their social media channels.
This way they'll ensure that their sustainable packagings are in fact eco-friendly and are not increasing the amounts of waste in landfills and ocean shores.
Hospitals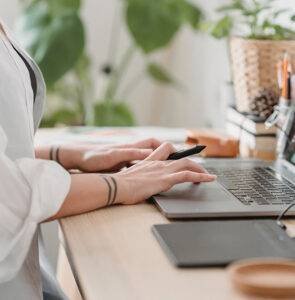 Hospitals and healthcare industries in general use a lot of single-use plastic items to carry out their duties and to ensure the sanitization of all tools and utensils used for their patients. Although some single-use plastics are hard to replace, such as syringes, IV tubing, saline bags, and other sanitized medical equipment cannot be reused, there's still room to decrease their plastic consumption.
Patients in hospitals often receive their meals, and sometimes their daily pills, in single-use plastic containers. This was specially reinforced during the pandemic to avoid the transmission of any harmful diseases. Even though using single-use plastics will very much control contagious diseases, it takes a toll on our environment.
To reduce the environmental effect of these plastic wastes, hospitals could switch to a higher-grade plastic that is dishwasher friendly and withstands enough heat to be completely sanitized between uses. Another sustainable idea is using steel for foodservice ware, like plates, cutlery, and food trays.
Hospitals could also opt for recyclable or compostable materials, which are disposable yet still eco-friendly. These materials would be perfect for patients who suffer from highly contagious diseases or those who are immunocompromised. After using these eco-friendly packaging, they'll be disposed of without harming the environment.
Schools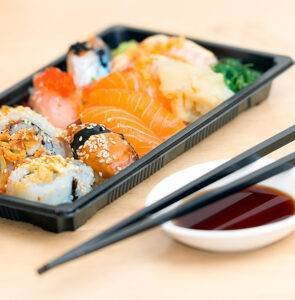 Schools, whether for canteens or cafeterias, use many plastic food and beverage containers within one single day. Single-use plastic containers made from or containing problematic plastics fill up our landfills and pollute our environment, which is not healthy for our children. So in order to follow the regulations of the single-use plastic ban, schools have a few sustainable solutions to replace harmful single-use plastics with eco-friendly alternatives.
Reusable water bottles:
Schools can encourage their staff and students to use reusable bottles instead of buying plastic beverage bottles. Staff members and students could fill up their reusable bottles as part of their morning routine while getting ready for a new day at school. Schools should also consider recycling plastic beverage bottles and installing water refill points around the school. This way, they'll help the staff and students build a habit of refilling their reusable bottles instead of buying plastic ones. Not only will applying this help parents save money spent on plastic beverage bottles, but it also saves the school waste removal costs.
Sustainable canteens and cafeterias:
Another way to replace single-use plastics is to ban disposable plastic dessert pots and single-use plastic straws from the canteen or cafeteria. Why need straws when you have your own reusable bottle? And if necessary, they could always switch to paper, silicone, or metal alternatives which are readily available at many retailers. As for disposable plastic dessert pits, they could be easily replaced with reusable versions that save plastic, waste, and money in the long term.
Schools could also switch disposable plastic cutlery, with wooden or metal ones, and wrap sandwiches in paper wrapping or tin foil instead of plastic wrap.
Mugs in staffrooms:
Instead of having the staff use small reusable plastic cups for a hot drink, encourage them to replace the disposable cup with mugs. Mugs are bigger, sturdier, and much easier to handle with hot beverages. Schools could even offer custom-made mugs with the school logo on them. And at the end of the day, these mugs could be washed in the cafeteria's dishwasher. If mugs are not applicable or practical, schools can introduce eco-friendly disposable cups, like paper cups.
Senior Living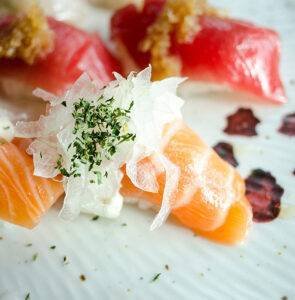 Nursing and senior living homes utilize single-use plastic foodservice ware and utensils to offer meals, beverages, and medicine to their residents. As a way to manage plastic waste, Nursing and senior living homes need to change their plastic items with reusable and recyclable alternatives. And to fully optimize waste management, they could also introduce a recycling program to recover as many recyclables as possible. These recyclable items can include: Corrugated cardboard, white office paper, mixed paper, newspaper, glass bottles, aluminum beverage cans, foodservice ware made from steel and plastics.
Some tips to manage plastic waste in nursing and senior living homes:
Staff should evaluate personal care items, based on infection control guidelines, and check the status of these items for reuse instead of discarding them.
Nursing and senior living homes should use reusable plates, utensils, and glassware in the kitchen and cafeteria
They should educate their staff on recycling and how to help the residents maintain a sustainable eco-friendly environment.
Offices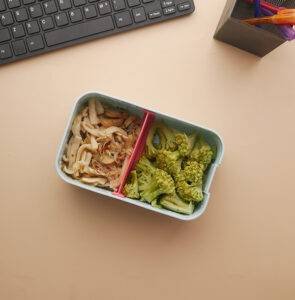 Offices are where people spend most of their time on weekdays, which is why it's one of the places that have huge amounts of plastic waste. Following the new regulations, many companies started offering branded reusable water bottles to their employees. This way companies have eliminated the need for plastic bottles in the workspace. Along with reusable bottles, reusable containers and straws will make a huge difference in the amount of waste produced by offices.
Some offices have already taken the step to enforce recycling the office and set up recyclable, compostable, and biodegradable bins around the office. They also use biodegradable bin bags instead of plastic ones. Most importantly, companies must educate their employees on how to use the bins correctly because adding waste in the wrong bin could lead to rejecting an entire load at the processing facility.
Like school staffrooms, swap single-use plastic utensils and cups with coffee mugs, water glasses, and proper metal knives, spoons, and forks to decrease and reduce plastic pollution and plastic waste in the break room. Another thing to consider in the breakroom is single-used coffee pods. Switching to coffee grounds reduces plastic wastes and leaves behind coffee grounds for composting.
How can these industries carry out business as usual?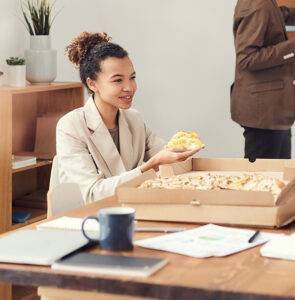 The good news is that there are plenty of steps that businesses can take ahead of time in order to prepare for the upcoming bans on single-use plastic items. One of the most important steps is to start exploring readily available alternatives that are both environmentally friendly and cost-effective. Business owners should also consider investing in new equipment such as reusable shipping containers or biodegradable packaging materials if they wish to remain competitive in an eco-conscious market. Finally, business owners should make sure that their employees are properly trained on how to use these new materials and technologies so they can continue providing customers with quality service while still adhering to all applicable laws and regulations.
Canada's ban of single-use plastics is a major shift for businesses across the country, but it doesn't have to be seen as an unconquerable challenge. With proper planning and preparation, companies can successfully navigate this transition without sacrificing too much time or money. By investing in alternative packaging solutions and educating consumers on how best to use them, companies can ensure that they remain competitive while also doing their part for environmental sustainability initiatives like this one!
What is a better replacement for SUP: Recycling, Compostable or Biodegradable?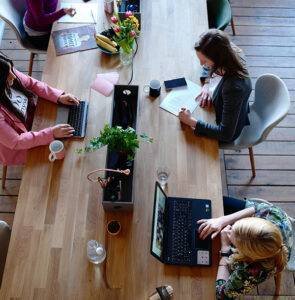 The three main categories of eco-friendly and sustainable packaging are recyclable packages, compostable packages, and biodegradable packages. But which one is the best option to replace single-use plastic items?
Recyclable:
Recyclable materials, like glass and PET plastic water bottles, metal and PET plastic food containers, cardboard cups, paper bags, and paper wraps, can all replace single-use plastic items for a healthier environment.
Recyclable wastes are the easiest and most common of all three types of eco-friendly alternative materials. They're well-known, easily understood, cost-effective, and they create a communal effect that helps preserve natural resources—as opposed to their single-use counterparts.
Additionally, packaging made from recyclable material is the cheapest, most sustainable, and eco-friendly option. For that reason, many business owners who choose to go green opt for recyclable options.
Finally, consumers can dispose of recyclable materials in the designated blue bins to send them to their nearest recycling facility. At the designated facility, they break down the recyclable material into smaller particles to create new products to be reused.
Compostable:
Compostable products can be broken down into natural compounds by microbes to return to the soil instead of ending up in landfills. The only condition for compostable products to be eco-friendly is that they fully decompose in the right conditions, which could be in a compost bin in the backyard or an industrial composting facility. Otherwise, they only decompose partially and release the greenhouse gas: methane.
So, while recognizing and buying compostable products made of cotton, bamboo, and PLA is a good step, the biggest impact happens when they actually end up properly decomposed.
Since compostable packaging can break down in a backyard, they're a great alternative for food packaging because food can contaminate recyclable packages. As a bonus, composting has domestic benefits, including fertilizing and improving the soil's health without leaving any toxic residue behind.
Typically, compostable products are divided into two main categories: commercial composting and home composting. Home composting is ideal for food scraps, leaves, and grass clippings. To be fully decomposed, these materials need a suitable warm, dry, and shady environment so the aerobic bacteria are able to break down the compostable goods.
Commercial composting, on the other hand, is best for bigger and bulkier wastes. That is because a composting facility is able to sustain the right temperature, supply the right biological additives needed, and provide the optimal environmental factors for a rigorous composting process.
As an example of where compostable materials should be discarded, paper and wood-based containers can decompose in any compost bin, but bioplastic containers should only be composted in industrial facilities.
Finally, compostable packaging is a little more expensive than recyclable ones because raw materials are more expensive and they're manufactured in smaller batches. If the demand for recyclable and compostable plastics and packaging increases, they'll be manufactured in bigger batches, which would make the overall pricing much cheaper.
Biodegradable
Although they're often used interchangeably, biodegradable and compostable are not the same thing. The term biodegradable means that a substance can break down naturally, with the help of bacteria and fungi, without leaving harmful substances behind. The difference between biodegradable and compostable packaging is that biodegradable includes items that are NOT organic. Artificial or chemically produced items can be biodegradable, but not necessarily compostable. That is why all compostable products are also biodegradable, but not every biodegradable product is compostable.
Biodegradable products are the ultimate eco-friendly packaging solution. Like compostable packages, naturally occurring fungi and microorganisms will biodegrade these products and break them down into natural elements to be absorbed through the soil. However, out of all three options, biodegradable packagings are the most expensive.
The drawback of non-compostable biodegradable items is that there isn't a specific timeframe for when they will break down. These items, like biodegradable plastic, could stay around for years before they start to disintegrate. Unless your city has a composting facility for biodegradable plastics, these items aren't a very eco-friendly option. So before you opt for biodegradable products for your business's packaging, make sure that your customer will be able to safely dispose of that packaging.
To know more about the differences between recyclable, compostable, and biodegradable packaging, check out our article right here. You'll find all the details of each type of packaging, including the definitions, pricing, implementation process, handling, and waste management.
The Honourable Steven Guilbeault, Minister of Environment and Climate Change, released this statement in light of applying the new regulations.
"We promised Canadians we would deliver a ban on certain harmful single-use plastics. Today, we're following through on that commitment by prohibiting the manufacture and import in Canada of five of the six categories of these harmful single-use plastics. With this ban, and our participation toward achieving a global treaty, we're joining the global effort to reduce plastic pollution and protect our wildlife and habitats. There is a clear linkage between a world free of plastic pollution and a sustainable world, rich in biodiversity—a world that also best supports the health and economic security of Canadians, protects our environment, and helps in the fight against climate change."
The Honourable Minister of Health, Jean-Yves Duclos, also stated…
"As climate change continues to pose a serious threat to our health, limiting plastic pollution is crucial not only for our environment, but for our overall well-being. With this ban, we are expected to avoid 1.3 million tonnes of plastic waste over the next ten years across Canada, leading to less pollution and healthier communities."
Finally, The Honourable Minister of Fisheries, Oceans, and the Canadian Coast Guard, Joyce Murray, said…
"The convenience of single-use plastics comes at a devastating cost to our oceans. Plastic products like six-pack ring carriers and shopping bags are consistently found in the stomachs of whales and around the necks of seabirds. Once in the ocean, plastic can persist for hundreds of years. This ban is the first step toward stopping the problem of plastic pollution at its source."
The Honourable former Minister of Environment and Climate Change, Jonathan Wilkinson, previously stated last year in regard to this 'climate change' movement…
"Canadians see the effects of plastic pollution in their communities and waterways and they expect the Government to take action. Our Government is introducing a comprehensive plan to get to zero plastic waste. Our plan embraces the transition towards a circular economy, recycled-content standards, and targets for recycling rates. We also intend to ban plastic bags, straws, stir sticks, six-pack rings, cutlery, and hard-to-recycle takeout containers. These items are harmful to our environment and their value is lost from the economy when they are tossed in the trash. This proposed ban will help drive innovation across the country as new and easier-to-recycle items take their place in our economy."
FAQ
What is Canada doing about single-use plastics?
The Government of Canada published the Single-use Plastics Prohibition Regulations (SUPPR), in the Canada Gazette, Part II. The new regulations officially prohibit the manufacture and import; and sale of 6 single-use plastic items identified in the proposed regulations, which include plastic checkout bags, plastic foodservice ware, plastic cutlery, plastic ring carriers, plastic stir sticks, and plastic straws— except flexible straws packaged with beverage containers.
What does SUP stand for?
SUP stands for Single-use plastics, which are products that are used once, or for a short period of time, and then thrown away. These plastic wastes leave drastic harmful global impacts on the environment and our health because they are more likely to end up in our seas and landfills than their reusable counterparts.
Is single-use plastic banned in Canada?
Yes. Effective December 20, 2022, the government of Canada banned the manufacture and import of harmful single-use plastic bags for sale.
What is included in the single-use plastic ban?
The new regulations list the following products as prohibited harmful single-use plastic products: checkout bags, cutlery, straight straws, stir sticks, ring carriers, and foodservice ware made from, or containing, problematic plastics that are hard to recycle
Will plastic garbage bags be banned in Canada?
As of phase 1 of the plan to eliminate plastic waste by 2030, plastic bags with thicknesses of less than 120 microns will be included in Canada's ban on single-use plastic items starting from 31 December 2022.
Which plastic bags are allowed?
Plastic carry bags must be at least 120 microns thick to be reusable. Otherwise, the standard 75 microns-thick plastic carry bags are banned starting from December 31, 2022.
Is Canada banning plastic water bottles?
According to the list of banned single-use plastic products announced by the government of Canada, plastic water bottles are not included in that list.
Are single-use plastic straws illegal in Canada?
As mentioned in the recent regulations announced by the government of Canada to ban the manufacture and import for sale of single-use plastic products, straight plastic straws are included in the list of banned items. However, flexible plastic straws attached to beverage containers are still permitted.
What will replace single-use plastic bags?
Some retailers offer reusable bags made of plastic materials, including low-density polyethylene (LDPE), polypropylene (PP), polyethylene terephthalate (PET), and polyester. Other options for reusable bags include paper bags, nylon bags, net grocery bags, and cotton tote bags.
Why we shouldn't ban single-use plastics?
Plastic provides an air, water, and hygiene-tight barrier for easily-damaged goods. This helps prolong shelf life and reduce food waste, which is a huge contributor to carbon emissions. Another disadvantage of banning single-use plastics is that medical care would be very difficult if not impossible because of many medical equipments that need to be manufactured from plastic, such as syringes, IV tubing, and saline bags.
Can plastic be completely removed from our lives?
Completely removing plastic from our lives is very hard because plastic is included in almost everything surrounding us, and we can't deny its benefits in many industries; such as medical equipment in the health industry and food preserving packages in the food and beverage industry. However, we can drastically decrease our plastic waste by making smarter choices and taking more responsibility for the health of our planet. 
What we can do is use readily available alternatives to plastic, when possible, maintain our plastic waste in good shape as much as possible, and recycle our plastic waste to prevent it from filling landfills and killing our wildlife and marine animals. 
Are Forks illegal in Canada?
No, wooden/birchwood forks are allowed to be used as disposable cutlery. Check out our 6″ Wooden Fork.